9 Reasons Why You'll Love Being A Customer At Pettijohn Auto Center
That's why we do business differently than most car dealerships. And here's how we're different than most dealerships.
We're located in a town of 3,200 people, we know most of our customers shop at the same grocery store, go to the same churches and belong to the same communities – that's why we treat every customer like friends and family.
*In a small community we thrive on repeat business, which means we can't afford to treat you like most city dealers will, you see, we're fishing from a smaller pond than most dealers. In places like Kansas City and Des Moines there are a minimum of a quarter-million people in the market, yet there are only 8,700 people in Harrison County alone! And we like it that way, a smaller population means we thrive on building a relationship with our customers, because we want them to come back for service, come back to buy more vehicles, and tell their friends and family about us. And in our opinion that's the only way to do business.
We hate paying extra fees as much as you do. That's why we've never charged annoying and "made-up" fees like documentation fees, restocking fees, admin fees, and never charge any penalties for not financing or not having a trade-in.
When you shop at Pettijohn Auto, you have 9 brands of NEW vehicles to choose from. We offer new Ford, Lincoln, Chrysler, Dodge, Jeep, Ram, Chevrolet, Buick, and GMC products all under one roof.
If we don't have it in stock, we'll do our best to find it for you – don't see the car or truck you want on our website or out on our lot? Fill out this form and we will work hard to track down the vehicle.
The price you see on our website is the price you'll actually pay – no games, no tricks, and no surprises when you go to sign the final papers.
We despise the dirty tricks many people in our industry use every day just to make an extra buck. If you've bought many vehicles in the past chances are good that you've been a victim of common tactics like the "bait and switch," "payment packing" or agreeing to a price only to pay hundreds in added fees when you sign the papers.
Every vehicle on our lot goes through a multi-point inspection and is reconditioned before making it to the lot. And if you buy a vehicle today and we know it still needs some work done before its ready to go, we'll take care of it before we let you drive it off the lot. If there's something we know and can't fix, you'll know 100% up front.
We're located in rural Missouri, and while we're a small town we offer all the perks and amenities of a big city dealership. You get the same quality warranties, the same manufacturer rebates, and the same vehicles as the biggest dealers in the country.
These are just a few of the reasons customers have been trusting us with their vehicles since 1924.  Next time you're looking for a new or used vehicle give us a shot to make it the easiest car-buying experience you've ever had.
What Zero Fees Means for You
Fees are hidden profit.  There's absolutely no other reason for it.  Many aren't discussed, seen, or revealed to you until you're signing your last few documents at the dealership.  Under the high-pressure sales systems used at most dealerships you, the customer, are so worn down you just accept them and go about the purchase rather than fight yet another battle.  At Pettijohns we just don't like doing business that way. We're happy to give you an up front, out the door price right from the beginning. The internet has forced dealers (us included) to advertise low prices online, and many dealers have turned to alternate methods of packing in higher profit margins.  As one of the last few standouts with a NO FEE policy we hope this makes your decision a little easier in choosing Pettijohn's for your next purchase.
Your Local Dealership Since 1924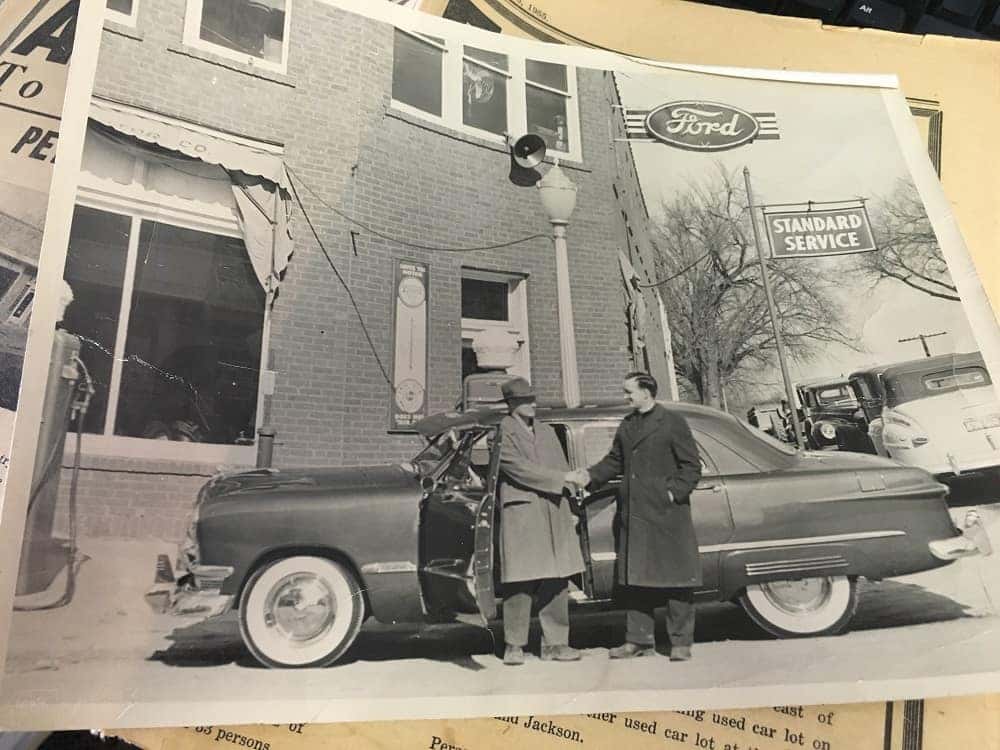 This business has changed tremendously since Pettijohn Ford opened their doors back in 1924.  And while many things have changed over the years, one thing has always rang true.  We are embedded in your communities; see each other at school functions, coach each other's kids, attend the same board meetings, churches,    Our customers are also our friends, our neighbors, and our co-workers. And when you do business with people you know you get in the habit of treating people like you'd like to be treated day in and day out.  Since 1924 dozens of area dealerships have come and gone, and the business has changed a great deal. However, we have been fortunate enough to sell several generations of families vehicles and look forward to helping you and your family find your next vehicle.
Did You Know…
Pettijohn Auto Center sells 9 Brands of New Vehicles – we're a Ford, Lincoln, Chrysler, Dodge, Jeep, RAM, Chevrolet, Buick, and GMC Franchise Dealer ALL Under One Roof
We stock over 250 New and Used Vehicles and if it's not in our inventory we'll find it for you through our dealer network and buying centers all over the United States – in fact 20% or more of the vehicles we sell are outside of our in-stock inventory.
Our Technicians are factory certified by General Motors, Chrysler, AND Ford. We service all 9 brands we sell and can perform all your warranty work right here in Bethany, MO.  And if all you need is basic maintenance, we do oil changes, alignments, tire rotations, and more every single day.
We carry Ford, Chrysler, and GM OEM Certified parts so whether you drive a Ford, Lincoln, Chrysler, Dodge, Jeep, RAM, Chevrolet, Buick, or GMC we've got you covered. Plus we stock all major brands of Aftermarket.
Need tires? We stock all major brands of tires and what we don't stock we'll have most brands ready and installed for you the next day.
We install Auto Glass too! Our service technicians are trained and experienced in installing auto glass of all types (windshields, back glass, side glass, whatever you need we'll get your glass repaired and you back on the road)
The Pettijohn Collision Center is one of the Largest Body Shops in Northwest Missouri and beyond. If you're looking for the body shop, it's located immediately behind our Sales, Service and Parts building right here in Bethany, Missouri.
Sales Department
Phone Number:
Sales Hours:
Mon - Wed, Fri

7:30 AM - 5:30 PM

Thu

7:30 AM - 7:00 PM

Sat

7:30 AM - 3:00 PM

Sun

Closed
Contact Sales
There's no reason to go anywhere else! 
We've been selling and servicing cars in Northwest Missouri and Southern Iowa since 1924 and hope to be here for 100 more years.  We're a proud supporter of the local community and do our best to help keep Bethany and the surrounding area a great place to work and live.
If you give us a shot to earn your business, we'll do everything we can to make you want to be a customer for life.
We need and appreciate your business!
Your Friends At Pettijohn Auto Center