We're Here to Help
Since 1924 Pettijohn Auto Center has been proud to serve Northwest Missouri for all their automotive needs. We've been in the business for almost 100 years now, can you believe it? Since the beginning we've been active supporters of the local community, not only Bethany and Albany but the entire surrounding area. During this time we will continue to serve our community, customers, and employees by making this a safe and friendly place to do business.
We have implemented the following to help do our part:
Hand sanitizer dispensers have been recently installed at all main entrances in and out of the sales, service, and body shop entrances. Please use them upon entering the facility and before you leave.
We're using disinfectant wipes to clean all common areas within the store in addition to door handles, light switches, and arms rests on chairs throughout the day.
Reminding employees and customers about the importance of washing hands often through multiple channels, posters, and literature.
Employees are required to stay home if they exhibit any flu-like symptoms as defined by the CDC.
CDC guidelines are posted throughout the store for customers and employees to be reminded to follow while in the building.
We are asking customers, vendors, and any other guests who are exhibiting flu-like symptoms to avoid being in the public as much as possible.
If you are experiencing flu-like symptoms, please avoid coming into the store and call to cancel any existing appointments ahead of time. We will work with you to reschedule at a later date.
If you would rather not visit the dealership we have added additional functions on our website at pettijohnauto.com. Here you can:
Search our inventory 24/7 to find something that you're interested in.
Contact us and we'll provide a walkaround of any vehicle of your choice and send you the video so you can get a better look from the comfort of your home.
Apply for financing and check your payment options.
Get a free appraisal of your vehicle to either sell or trade to Pettijohn's.
If you would like a test drive we can bring the vehicle to you and we will wipe down high touchpoint areas of the vehicle.
If you have any concerns about coming into the store please contact us and we'll work with you to purchase your next vehicle, service your existing vehicle, or get your vehicle fixed in our body shop in a way that works for you.
As always, thank you for your business and we'll work through this together,
Your friends at Pettijohn Auto Center.
Just Announced! Free At Home Trade Appraisals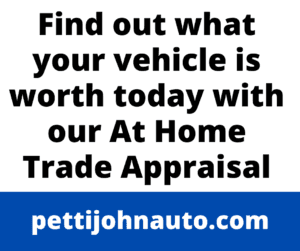 Do you know what your vehicle is worth?
What most people do when they want to find the answer is go online.
They'll look up the value through KBB or other websites.
They'll see what they're selling for online.
But what they don't get is a real cash offer to buy or trade for your vehicle.
That's what I want to give you today.
With our quick and easy trade appraisal process you'll get a real offer to sell or trade your vehicle.
Here's how to get started.
Click here and answer a few questions and we'll give you an instant Range of values that you're vehicle will fall into.
Then we'll take that info and come see your vehicle in person or through a series of photos.
We'll make you an offer to sell it outright or trade it in toward something newer.
Either way you'll walk away with a real offer for your vehicle.
Looking to upgrade your vehicle but don't want to leave the house?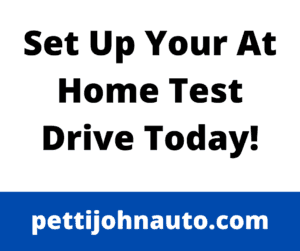 That's no problem.
With the events of the past few weeks we're changing the way we operate to help serve you better.
That's why we're offering At Home Test Drives on any new or used vehicle in stock.
Right now we have just over 250 to choose from… and our inventory is constantly changing as we buy, sell, and trade for new vehicles every day.
If you see something that you want to take a closer look at click the Schedule Test Drive button or contact us at 1-800-253-2568 and tell us what you're looking for.
We'll pull the vehicle off the lot and bring it to you at home or at work.
If you like the vehicle and decide to purchase we'll even come to you for paperwork and delivery.
Ready to get started?  Click this link -> https://bit.ly/3aoi8ww
Free Pick-up & Delivery for All Service Appointments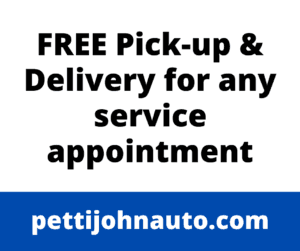 As always, we'll continue to offer Free pick up & delivery for all local service appointments.
Call ahead to schedule your appointment and we'll come get your vehicle at your home or work.
We'll bring it into the shop, complete all repairs or maintenance and bring it back to you.
Click here to request an appointment or call 660-425-2244.