This 2017 Shelby GT350 is "the most track ready, street-legal Mustang ever produced"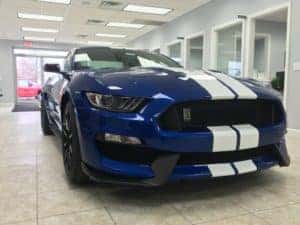 That's what Ford is saying about the 2017 Shelby GT350.
And from the looks of things they're right on target.
We've resisted every urge to take this baby on a "test drive" even though just about everyone in the store would love to get behind the wheel.
In fact, to avoid temptation we drove it right off the delivery truck and into the showroom.
If you've never seen the Shelby in person, it's worth coming by the store just to take a look.
So what's all the fuss about?  What is it that makes this Shelby the most track-ready, street legal Mustang ever produced?
Here's just a few of the highlights, direct from Ford:
This race-tuned monster is powered by a hand-assembled 5.2L Ti-VCT V8 with a Flat-Plane Crank (FPC), the type more often found in exotic sports cars and racers.
It's the most powerful naturally aspirated road-going engine in Ford history. With a redline of 8,250 rpm, it's also our highest-revving production V8 yet. And the exhaust note is sublime.
To achieve its balance of downforce and drag, every aspect of the GT350 exterior was scrutinized. From its aggressive front splitter to its vented aluminum front fenders and hood, all the way back to its rear spoiler, fascia and integrated diffuser, every element is designed to work as part of a unified team – and help you stay glued to the road.
1,000 times per second – The MagneRide Dampening System passes an electric current through iron-infused hydraulic fluid to adjust it's continuously controlled dampers independently at each corner.
Plus an aluminum strut-tower brace, and coolers for the engine oil, transmission and differential are all standard for the 2017 GT350.
And that's just scratching the surface…
Car and Driver put it on their list of 2016 10 Best Cars saying "it's not like any other car period."
Our 2017 Shelby GT350 is equipped right with all the bells and whistles like touch-screen GPS/Navigaton, Heated and Cooled Seats, plus it's got the classic Shelby look…  Lightning Blue with Over-the-top White Racing Stripes straight from the factory.
If you just want to take a look or put it in your driveway swing by the dealership or give us a call.  Chances are it won't be here for long.