The All-New 2017 Jeep Compass Review – Now At Pettijohn Auto Center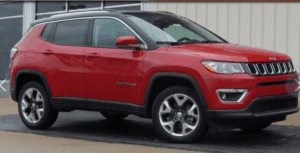 The 2017 Jeep Compass is quickly making a claim for the best compact SUV on the market.  Smaller than a Jeep Grand Cherokee.  In terms of size it's just a notch below the Midsize SUV segment.  Large enough to seat 5 with room for cargo in the back, yet small enough get
What you'll get with the Compass is a rock-solid vehicle with 4×4 capability, good fuel economy for it's class, and an incredible value with MSRPs ranging from 22k to 33k depending on trim level.
Brand New Uconnect Features and Available Options
Unconnect on the all new 2017 Jeep Compass gives you access to some of the best tech features on the market today.  It's equipped with Apple Carplay and Android Auto so you can quickly access your apps directly on the touchscreen.
Screen size options from 5-inch, 7-inch all the way up to the 8.4-inch screens.  The 8.4 inch touchscreen gives you the ability to zoom in on maps, swipe and interact with the screen in a number of different ways.
Apple Car Play on the All-New 2017 Jeep Compass
Plug in your iPhone and instantly access your apps on the 8.4-inch touchscreen.  Apple Carplay is now available on the all new 2017 Jeep Compass.  The feature allows you to quickly access compatible apps through the UConnect system.  Play music from iTunes, Spotify or other apps on your phone.  Send voice text messages using Siri through the vehicle speakers
Access apps and the best features of your iPhone just by plugging it in.

Selec-Terrain Traction Management System
Every 4×4 option comes with Jeep's Selec-Terrain system so you can choose the setting that best fits the terrain you're about to tackle.  While the "Auto" setting is going to be the best option for most drivers 99% of the time, if you're up for some off-road driving the Selec-Terrain is like a "choose-your-own-adventure" dial for your Jeep Compass.
Auto: The "Go-To" Mode
The "default" mode you'll use the majority of the time.  Dial into this mode for everyday driving and selec-terrain automatically adjusts to best suit the road and driving conditions.  The rear driveline disengages when it's not needed for a smoother and more efficient ride.
Snow: For Snow & Ice-Covered Roads
Driving over snow and ice-covered roads?  Click the Selec-Terrain into "Snow" setting to maximize stability and minimize oversteer.  Antilock brakes and traction control take over to keep you on the road and in control.
Sand:  For Sand-Covered, Looser Surfaces
Getting ready to trek across sand or other loose surface?  Lock it into sand mode and take advantage of the aggressive throttle and upshift points to make it through unscathed.
Mud: Perfect For Fun on the Farm
The "Mud" setting on the selec-terrain dial maximizes low-speed traction by allowing more wheel-slip that comes from specifically tuned chassis controls, differentials, and transmission rations geared to make it through deep mud and offroad conditions.
Rock: Only Available on Trailhawk
The "Rock" setting comes exclusively on the Trailhawk trim level.  Dial into the Rock mode and you'll tap into the Compass' Trail-Rated 4WD Low capability that uses it's rear-differential locking element to crawl over and around rocks and rugged terrain at controlled speeds.
Cold Weather Group
If you've ever been driving in weather so cold even your de-icer starts to freeze, then you'll appreciate the cold weather group option available on Sport, Latitude, and Trailhawk trim levels.
Remote Start
Just press the button on your key fob and start your Compass remotely, from up to 300 feet away.  It even works from inside most buildings.  So when you're about to take off, start it a few minutes early and the ice and snow will melt away.  No more scraping away ice for half-an-hour before you can drive.  This feature alone will make your family, friends, and co-workers so jealous they'll want one of their own.
Heated Steering Wheel
It might sound over the top, but trust me…  When it's 15 degrees in the middle of January you'll appreciate the fact that you can drive comfortably without even wearing gloves.
Heated Front Seats
The cold weather group comes with heated front seats for both the driver and passenger.  Choose from two settings depending on how warm you need your seat to be.
All-Season Floor Mats
Every winter when the roads get covered with salt and sand it's virtually impossible to keep it out of your vehicle.  That's why the cold weather group comes with all-season floor mats.  These rubberized mats help protect the carpet in your new Jeep clean all year long.
Windshield Wiper De-Icer
An interior heating element keeps your wipers free of slush so they can keep your windshield clean even in the toughest of conditions.  If you've ever been on the road as the temperature drops from 34 to 30, then you know how important it is to keep your windshield from collecting snow and ice.
Reversible Cargo Mat
Soft-carpet on one side, vinyl on the other.  The reversible cargo mat is made to take out of the Compass to clean between seasons as you go from vinyl to carpet.
Fuel Economy: EPA Rated 30 MPG Highway
Jeep has made major improvements to the fuel economy on the All-New Compass.  The 4×4 New Compass is rated a full 5 MPG higher than the 2016 model.
Towing Capacity: Up to 2,000 Pounds on Select Models
How much can the 2017 Jeep Compass tow?  It depends on the drivetrain.
4×2:  Towing is not recommended on for the 2-wheel drive version of the compass.  That being said, 99% of the compasses we sell at Pettijohn Auto Center are 4-wheel drive.
4×4: The Trailer Tow Package is available on all 4×4 versions of the Compass (Latitude, Trailhawk, and Limited trim levels).  According to the towing capacity guide on Jeep.com the 2017 Jeep Compass has a max towing capacity of 2,000 pounds.
Here's a quick-reference chart from Jeep.com that breaks it all down.  The bottom line is, if you're planning on towing all the time you'll need a bigger vehicle.  But for the occasional
https://www.jeep.com/en/jeep-capabilities/towing/#Compass4Tab*
Cargo Space
22.7 cubic feet of cargo space
Fold the back seats down and the cargo space jumps to 53.6 cubic feet.
Plus it comes with 60/40 Split Rear Seats so you can fold down only the seats you need to add cargo space while still leaving one or two spots for passengers in the second row seat.
Engine Stop-Start Technology
Save fuel at every stop. Of if you'd rather not have it on, just hit the "A" button on the center console to turn the engine stop-start feature off.  The choice is yours.  However, on this new Compass it's quieter than ever.
Four-Wheel Drive (4×4) Capabilities
Jeep has built it's reputation on building vehicles that can go far off the beaten path.  Over rocks, through mud, and up the steepest hills by relying on the best 4×4 capabilities available.  And the 2017 Jeep Compass takes brings those storied capabilities to the Compact SUV segment.
Active Drive: Automatically Switch From 4×4 to Front-Wheel Drive
4×4 on the new Compass uses a disconnecting rear axle to actively transition from 4×4 into front wheel drive (FWD) so you can get great fuel economy in situations where 4×4 isn't necessary.  Just keep the Selec-Terrain dial set on "Auto" mode and your Compass will automatically adjust to road conditions as you drive.
Active drive makes it possible for the Compass to engage 4×4 only when necessary based on road conditions.  It also comes with automatic yaw correction to keep the vehicle stable at all times.  The active drive system integrates brake traction control to maintain control in all weather conditions.
Active Drive Low: Only Available on Trailhawk Trim Level
4WD Low mode is only available on the 2017 Jeep Compass Trailhawk trim level.  4WD Low locks in the front and rear driveshafts for more power at low speeds so you can effortlessly climb steel hills and crawl over rocks.  The max speed for 4WD low mode is 25 MPH.  It's strictly for climbing hills or going over rough terrain.
The options highlighted in this article are not available on all trim levels and configurations.  If you want something built specifically for you with the options and configurations you want and need give us a call at 660-425-2244 and we'll find the perfect vehicle for your.
Looking for a 2017 Jeep Compass? See our current inventory of new and used Jeep Compass through this link here or contact us to find one for you.
Photo Credits:
https://www.jeep.com/compass/gallery.html