This 2016 Dodge Charger SRT Hellcat is "The Most Powerful Production Sedan On Earth"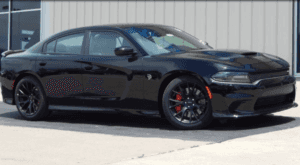 Car and Driver, one of the most respected automotive publications around called the 2016 Dodge Charger SRT Hellcat "the most powerful production sedan on earth."
And the Hellcat on the lot here at Pettijohn's is one of the most unique you'll find.
It's got all the options true Muscle Car fans will appreciate plus an incredible Ruby Red interior with black and red accents.
It's built right and ready for you to come drive today.
Here's just a few of the features and specs:
6.2 Liter V-8 HEMI engine is packed with 707 Horsepower
8-Speed Automatic transmission
Adaptive suspension with Auto, Sport, and Track modes
Massive BREMBO 4-wheel anti-lock brakes (ABS)
Navigation system
Top Safety features: side seat-mounted airbags, 1st and 2nd row overhead curtain airbags
20″ Aluminum Wheels
Driveline track control
Unbelievable track-tested metrics:

0 to 60 mph in 3.4 seconds
Up to 24.6 MPG with the "red key" 707 HP mode
Stops 60 mphto 0 in 104 feet
Quarter mile, 11.8 seconds, up to 124.3 MPH
At 707 Horsepower it's far and away the most powerful sedan on the market.
It even has 67 more HP than the next closest competitor.
Financing options area available for qualified buyers to check your financing options start buy filling out a quick credit application by clicking this link.
Or schedule your test drive by clicking the contact us button below the Hellcat photos.  This test drive offer is only available for a limited time, only available on stock number 16353.